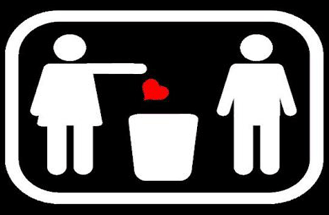 Recent Breakups
So... I had a girlfriend & we were happy. We texted 24/7 & my friends would kill to have a relationship like we had.
The week before she went on her vacation with her family, she became annoying. She was just... a different girl. She was upset all the time & she yelled at people (especially me)I downloaded Whatsapp so we could talk without high costs. So, she went on vacation & we talked the first day. Everything was great, she had much fun. After that, she didn't answer anymore. I thought "Maybe she doesn't have time, or no internet" then two days before she went home, I spoke to my best friend. He told me "T. is hilarious @ twitter" So I asked him which T. he ment & He answered "You know, T. your girlfriend." I couldn't believe it so I asked him "How long has she been on twitter?" And he told me she was on twitter for the past 2 days, hours in a row. My heart was shattered by those words. I was very upset. The day she went home I texted her again, still no reply. So I broke up with her with tears in my eyes & those words "I'm done. If you don't want to talk to me, just tell me. You know I'll never get upset for that kind of stuff." So the next day she showed up explaining me why she started to ignore me. She told me she wasn't ready for a serious relationship & that she had a hard time at home. I bought it. I told her that even though we broke up I'll always be there for her. But she just deleted me out of her life. A few days later, she comes back around again to talk with MY bestfriends. She asked me to never talk to her again, so I did. The days passed by as I tried not to show any emotions. Then, after a week, she started to flirt with my best friend... (The one she spoked to @ twitter)I was BROKEN. I started to believe that she'd never loved my at all. I started to realise that the real reason behind our breakup was my best friend. She fell in love with my best friend, who is also in a relationship. But the worst of all is... She made everyone around her think that I'm the one who broke HER.
Phaith
on May 11, 2013 @ (Indiana)
I have a doosey for the enjoyment of all the broken hearted here, I MUST share. This happpened over 14 years ago, and I still revel in the ridiculousness of it all on occasion, and it makes me very thankful for what I have now, and very thankful I am a much more mature person,too. I was dating a man who had become a very important part of my life. We were best friends, did so many things together and the chemistry was insane. Everyone told us how lucky we were to be so crazy about each other. Constantly pawing at each other, doing everything together, at that time, the happiest time of my life. A euphoric laugh and love fest. The intensity of my feelings for him were over the top on every level. It stayed this way for about 2 years. I was hook line and sinker, do or die with this guy. Being away from him felt like detox, miserable loneliness no matter who was around. But then I started noticing he was not returning my calls quite as often. He would occasionally be unable to hang out. We were both busy, I thought once things died down we would pick back up where we left off. He got a new apartment in the same apartment complex as his mom and sister. We hung out there when he was not working or busy doing this and that.I talked to his mother and sister almost everyday, discussing our plans for this and that. All was well, when suddenly he stated we needed to break things off and see other people, then asked for a last romp in the hay as a good bye. I was so upset, looking for solace, I entrusted with my now, new family, his mother and sister. I then found out he had a new girlfriend. Well,not actually new. They had been dating a year and lived together in his new apartment for about 6 months. They knew the whole time. Yowsa.
For the past 2 years I've been in an online relationship. My ex would always make sure I would never dishonor her trust in any way or shape. So I I'd just that for these two years. This year was my hardest year yet. With personal issues, college, and general life matters knocking at my door, I have been through hell. Then I notice my ex starts acting funny. I ask her what is wrong and she refuses to tell me. I guess if she has feelings for someone else and she said yes. Then proceeded to put said person above me and even defend him when it hit the fan.
I can never claim to be perfect. And I never will claim to be perfect. However, to have that happen on top of what has occured for me this year has wounded me immensely. I tried to reconcile and stop the eventual break up though. By constantly apologizing if only to allow us to be together again. Yet she would just blame my faults on her extremely poor and hurtful choice, and never once apologized for it or asked to work through it. Eventually I realized how dead I was to her and broke it off. The truth is that my decision was necessary because what would stop her from doing it again? More over, what would it take to feel remorse? Should I have to deal with all that with everything I've dealt with this year? So I broke it off and look towards my future. A future with family, friends, and in time, a girl I can give my heart to that deserves it. Not someone who admits the truth then lies right there after to hide the shame brought upon it.
My ex was too immature to understand how much she hurt me. By blaming me for her mistakes instead of being a woman and owning up to them, she brought this on herself. Just because she does not value herself to admit the truth does not mean the truth does not exist. I plunged my hands into the filth, while she jumped into it and refused to leave it. I cannot be with someone like that. As much as it hurts to admit it I can't, because I would have never done that to her. No matter how bad I have felt. I would have never betrayed her.
I have had a crush on this girl sinse the first grade, it started off as us hating each other but it was one of those cute kid cover up things. In middle school there were other girls I hooked up with, other girl friends, so I forgot about this girl for a long time. After dealing with a fair amount of drama with other girls, I started to have feeling for this girl again, this is by the time puberty has hit us both and she became more than just the girl I liked, she became beautiful, so other guys started hitting on her too. Around this time me and he started getting flirty, this lasted for a while until I asked her out, but she said no because she felt like we were too close as friends and she didn't want to loose me. So I was heart broken or whatever but I bounced back and everything was fine between us. We texted all summer and saw each other a few times, it almost felt like we were together, but we weren't. I got over her and started focusing on my studies so for a while all I did was study and party, everything was going fine, I was happy. Then my best female friend told me that she and my old crush were talking and that she found out that she kind of liked me but was going to wait for me to ask her out. So I waited, partied more, and eventually got around to asking her out, again, and she said yes. That marked the start of our month line awkward excuse of a relationship. I was her first boyfriend, and her first kiss, which she was extremely nervous for, so once we kissed I thought everything would turn around and that she would loose her shyness, the thing ruining our relationship. I didn't work, she and her friend started fighting and their fight was affecting out relationship. Spring break rolled around and I had only kissed her one day, on several occasions though, infact we made out. I was planning to hang out with her during spring break but she was out of town the whole time. The last weekend of spring break I was so exited to see her the following Monday. When I go to school I found out that her fight with her friend had gotten worse, they would even look a each other. That day I decided that I Was going to talk to her and either figure out why everything was going the way it was going or break up with her. Before I could do it I checked with my female friend and she had told me that my girlfriend had told her that she wasnt ready for a telationship and that she wanted it to end but she was to nervousness and shy to do it herself, so knowing that I ended it. I felt awful, I picked up smoking again that night and sat on my roof singing sad songs, what a movie cliche. Later people started saying that she just used me to get a first kiss and I was devastated because I thought she liked me. In a spiral of sadness I started smoking too much weed to feel happy again, which was fun while it lasted but now I'm broke. So I've been a sad, bitter, broke, lonely wreck. She seems like she moved on immediately, she's happy, and never regarded it, but I still feel empty inside because I don't know how to be happy again like I was before we got together. She said maybe she would be open to trying a relationship with me again next year but I can't hold on that long, even though I'm afraid I will and this silent sufference will last until then. Sigh... Where some weed when I need it.
MM
on May 02, 2013 @ (POOP)
That was a year ago.
I was driving, she was with me in the car. I didn't realize there was a dog crossing the street at that moment and I crash him at 100kmh. I stopped the car right away and we both went out. The dog was 10m behind so we went to check his condition (all in blood, could see part of his stomach out), she wanted me to bring him to vet but very obviously there was nothing to do, so i didn't... She left me for being "cold-hearted".
Gaia
on May 02, 2013 @ (Berkeley Ca)
I met him in college. We had been through a lot with our exes but found someway to be there for each other. Our friendship started off innocent, we had no intention of being together, although i suspected we were both attracted to one another. But we were the best of friends, we spent every day together, talking, exploring, studying, struggling to eat on a broke college student's budget. He was my best friend and I could tell him any and everything. However things changed, one day when I was getting ready to head home for my sister's graduation he and I went to hang out and unexpectedly admitted our feelings for each other. I was so happy that day, i felt like flying. He told me he could imagine us being together in the future. So I went back to my hometown that night not knowing what was to happen between us but I was pleased and he was too. We gave each other butterflies and everything felt so new and fresh between us. I was in love with my best friend.
We never decided to be together, it would be too complicated for us to place a title on our feelings, he and I had just gotten out of our own relationships and thought it would be easier to hold off being together "officially" and just enjoy one another.
We experimented sexually and had a spiritual connection like no other. We had each other's back and spent every day together
But as time progressed, it became difficult for me to be stuck in uncertainty about where our relationship was headed. I began to feel insecure and jealous sometimes, in which I acknowledged and tried to solve by seeing the love in everything and everyone around us. I did not tell him about my jealousies and insecurities, because I knew those feelings were reflection of myself and my fears. However, he began to change... began pushing me away and becoming insensitive to how some of the things he did and said made me feel uncomfortable. I became sad all of the time and would cry and feel hurt.
Then one day we had a talk, I told him how I was feeling and he told me he had feelings for someone else. He was being 100% honest with me (which is a habit of ours) and also said that he did not want to go farther than just having a crush on another girl because he loved me.
Nevertheless, as the semester began to sweep me away to travelling around for work and school and family, he began to hang around the other girl more frequently in my absence. Then he told me that he told her about his feelings for him and she returned those feelings.
So I had enough. I broke things off with him, i told him that we should just be friends... I cant take feeling like this anymore. Regardless of how much we love each other. Its been an emotional roller coaster and I can't deal with it. I wish him joy and happiness and love and I hope he can figure out what he wants. Although thinking about this still makes my heart constrict and tears flood my eyes, i am moving forward. <3
We met 3 years ago straight after my marriage breakup thinking it was just a bit of fun one night stand it turned out it lasted 3 years . He never really committed to me the whole time but I somehow felt I was in a relationship he gave me back my self esteem initially after my marriage breakup and i was so happy when i was with him but over the years I began to feel used and abused for sex and text based relationship . But he knew how to get me back everytime I felt strong enough to walk away he came back said and did everything right rope me in only to cut me loose again so he could go and have his fun then blame me for something I had said or did. He told me I was the best girl best company gorgeous sexy etc etc i was in love with him although he was 10 years younger than me I felt there was always a chance we could be together because he said he would never find anyone like me . And now here I am again I let him back into my life only for him to cut me off again but his time I am determined to let go and move on I have to because I want to feel real love be loved and appreciated I deserve it
Jennifer
on April 27, 2013 @ (Washington Dc)
I have been in bondage ever since my ex leave
for another woman, It was really hell for me
and everybody told me to forget about him but i
could not because i love him so much, Things
get worse until my friend Rose introduced me to
this great spell caster Prophet osaz and i
contacted him through his email
[SPAM]
i explain everything to him and he cast a spell
for me immediately after three days, everything
turn around and James come to me on his knee
begging for forgiveness that i am the one and
only woman in his life now. i was surprise i
have never seen such a miracle in my life. I am
so thankful to this man and i will forever
publish his name [SPAM]
Yana
on April 17, 2013 @ (California)
We met through a mutual friend who was very close to both of us. Before meeting, the mutual friend actually told my ex that we were "perfect for each other".
The first few times we hung out, always in a group of friends, I thought he was cocky and full of it, but I was intensely attracted to him. One night at a party, I noticed he was kind of following me around. Every where I was in the house, he was too. He was adorable and shy, and I was forced to re-examine my first impression of him. We ended up talking for hours alone that night and we somehow intuitively knew so much about each other despite having been acquainted for such a short time. It was one of those magical moments in life when two human beings who are basically strangers really "see" each other, and love what they see.
We fell in love very quickly and intensely over the next few weeks. Time was always running away from us; he was supposed to leave the state in just a few months.
A year of long distance bullshit later, he stopped responding to me. Said he needed to have some time to himself, to figure things out. A week later he broke up with me. The reasons were never really clear but I think mostly he needed his independence to carve out his own place in the world, and he didn't feel he could do that with the pressures of our relationship. He said we were like two kids caught up in a fairy tale, and he had been hit with reality. Our fairy tale was the most important thing to me. We shared dreams of building a treehouse and living there in the wilderness with our kids and dogs and little vegetable patch. We called each other soulmates and "love of my life". I believed in it with everything I had. For me, this was my partner in life.
I was in a state of physical and emotional shock for some time after the break up. We vowed to remain close, to remain best of friends, because we both believed that love never really dies - even when two people part ways. Six months later he told me again I was his soulmate. Three days later he started to ignore me, which he has continued to do since (4 months and counting). This has truly been the most painful part of the whole experience. I believed so completely that this person, regardless of the current status of our relations, would always support and love and acknowledge me . By ignoring me, he has made me feel invisible, worthless, and crazy. Sometimes I think I made everything up in my head or that it was some crazy dream. More than I grieve for a lost lover, I grieve for the loss of a genuine connection with a person, the kind which is very rare in our world.
This guy was with me for almost a year,but it doesn't matter to me how long or short,i loved him with all my heart and thats what matters,he was my first love and i cant express how much i loved him,what didnt i do for him....but i never asked for more then his love,all i needed was his love,but maybe he never did.
i begged him,pleaded him,but he never replied for anything,sometimes i think that the time we have been togather was a lie,we were never meant to be,i cant believe he did this to me,he has made me feel like the luckiest girl,and on the top of the universe,he made me believe he loved me like anything,but he never did,i wonder how could he do this to me?my only question is why?
Now i only have one of his most beautiful memories we shared,that reminds me of the times we had,our girl baby,she is the most beautiful thing i've seen,when we brokeup i didnt knw i was pregnant,after he left me i came to know and i was really happy,i tried to contect him,but he never listened,he doesn't even know that there is a baby,he even doesn't know where we are,i don't want him to know also,he betrayed me,cheated me.
The feeling of keeping the baby inside me was the most amazing,the way it grew,every second reminded me of him,i still do want him,really badly,lastweek my girly for the first time called dada,and tears filled my eyes,she is very alike to her father,those eyes,those soft lightbrown straight hair,she is only one and half,her small feets put little steps towards me,her every thing reminds me of him,and it makes me happy too.
i wish he would be happy,successfull,and he gets the love he wants,god bless him everyway,i loved him,love him,and will go on loving him forever,now my problem is my bestfriend wants me,but i never thought about loving anyone after him,its not that i didn't try,i did,but cant,i believe its better not to love than loving someone who'll never love you back,i feel as if you love soomeone you will pay for it your lifelong......
So though i am alone,its better to be alone,and live a lonelylife,the reason i am living only is for my babydaughter,she is my life,in my every breath she exists,nothing can harm her as long as i live,i have never let her even fall simply,i've kept her in my arms and looked after her,she is the reason i am,all i am is for her,and i will never let her go through what i went,i've promised this to my self since i knew she was within me.....
i love you my darling,my baby,my girl,my only princess...
Check Your Spam Folder
People have been reporting that our emails are getting caught in their spam filters.
Be sure to add the address below to your contacts:
Join Our Weekly Newsletter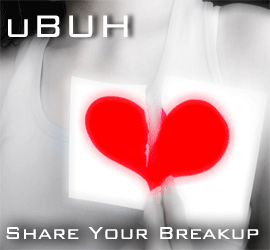 Advertise with us!
If you're interested in advertising with us please contact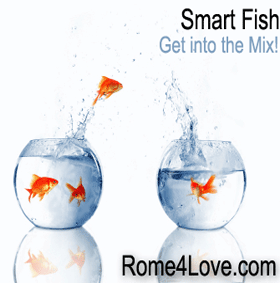 &nbsp